Honors and Awards

Lewis Rudnick Award for Lifetime Achievement in Franchise Law, presented by the American Bar Association, Forum on Franchising, 2015

Chairman's Award, American Association of Franchisees and Dealers, For Distinguished Contributions to the Franchise Community, 2004
W. Michael Garner
W. Michael Garner has practiced franchise and distribution law for over thirty years and is regarded as one of the nation's premier trial lawyers and legal writers in the field. He believes in excellence, hard work and dedication. Included among Michael's notable cases are the following:
The successful jury trial of a test case on behalf of a dozen franchisees that led to a global settlement in their favor in excess of $230 million.
The settlement of a franchise fraud case against a Fortune 500 Company in excess of $3 million.
The settlement of a case for wrongful termination of distributor agreements for $1.5 million.
A settlement for franchise fraud against a franchisor and its owners for $400,000.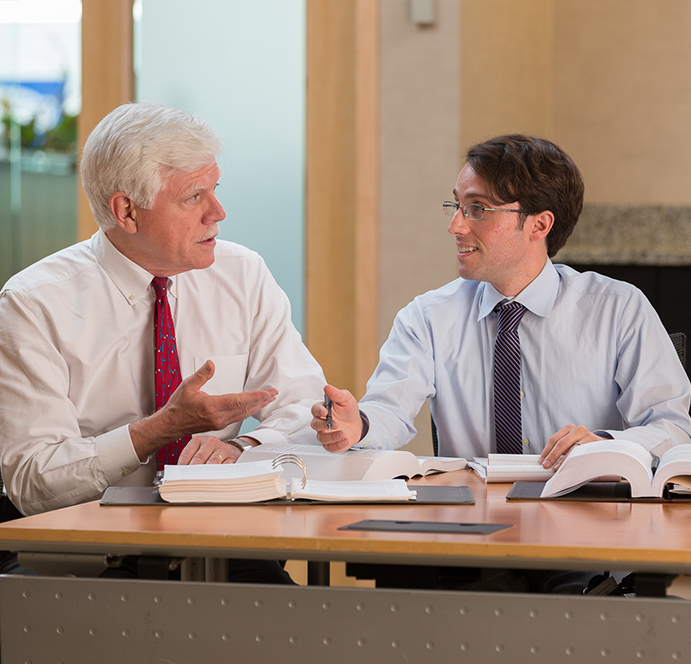 A preliminary injunction stopping the termination of a heavy equipment dealer.
Michael has also established many legal precedents expanding the rights of franchisees, including:
The right of franchisees to sue franchisors under New York law even though their franchise agreements prohibited them from doing so. This case has been followed by courts around the country in enforcing franchisee rights.
The right of franchisee associations to sue on behalf of their members.
The right of franchisees to be protected against encroachment by their franchisors over the Internet.
The right of franchisees to enforce their franchise agreement despite the franchisor's efforts to change their rights in the operations manuals.
View All Case Studies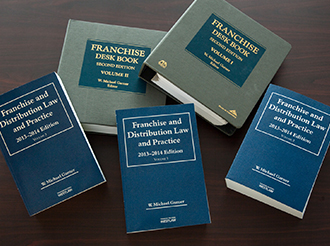 The Ultimate Legal Professional
Clients who have worked with Michael praise his "extreme commitment to achieving the best possible outcome, and unwavering belief in our position." They have called him "the ultimate legal professional" who presents a "brilliant case." Chambers USA said he is a "litigator of significant prowess," who is "great on his feet." One client summed it up this way: "You are one awesome lawyer."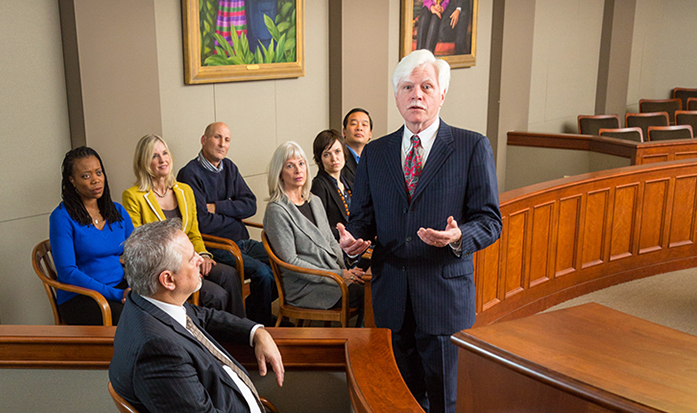 Experience You Can Trust
As a recognized authority on franchise law, Michael has testified before Congressional and state legislative committees in support of franchisee rights. He has been a featured speaker before the American Association of Franchisees and Dealers, International Franchise Association, the American Bar Association Forum on Franchising, the Practicing Law Institute, the National Franchise Law Institute and various other bar and franchise industry associations. His writings have been cited by several courts, including the United States Supreme Court.
More About Michael
Michael lives in New York City with his wife, Christine.  He has traveled to over 40 countries on five continents, published fiction in university periodicals and served on the boards of the Loft Literary Center, Open Book and the Fort Tryon Corporation.
Additional Qualifications
With decades of experience in the field of franchise law, W. Michael Garner has become the authority on the subject. Learn more about his background, publications, and expertise.
Bar Admissions
New York, New Jersey, and Minnesota
Education
New York University School of Law, New York, New York
J.D., Doctor of Jurisprudence
Columbia University, New York, New York
A.B., Bachelor of Arts
Honors: Dean's List
Major: English
Representative Cases
Coraud v. Kidville, 109 F. Supp. 3d 615 (S.D.N.Y. 2015)(Franchisor could not prevent franchisee from suing for fraud by requiring it to sign away its rights).
Andersen v. Griswold, 2015 WL 10739349 (N.D. Cal. 2015)(Franchisor's CEO had to answer in federal court for fraud claims).
Frango Grille USA, Inc. v. Pepe's Franchising, Ltd., 2014 WL 7892164 (C.D. Cal. 2014)(holding that franchisor could not require case to be brought in London, even though franchise agreement had provision requiring that)
Lynch v. Math-U-See, Inc., 2013 WL 796531 (N.D. Ind. 2013)(upholding complaint for wrongful termination and breach of fiduciary duty)
Fantastic Sam's Franchise Corp. v. FSRO Ass'n Ltd., 683 F.3d 18 (1st Cir. 2012)(Franchisee Association had right to sue franchisor).
Novus Franchising, Inc. v. Oksendahl, 2008 WL 835681 (D. Minn. 2008)(court struck down franchisee non-compete)
Heisel v. John Deere Const. & Forestry Co., 2008 WL 53232 (E.D. Mo. 2008)(court upheld complaint against Deere)
Texas Taco Cabana, L.P. v. Taco Cabana of New Mexico, 304 F. Supp2d 903 (W.D. Tex. 2003)(court upheld complaint against franchisor)
Town & Country Equipment, Inc. v. Deere & Co., Inc., 133 F. Supp.2d 665 (W.D. Tenn. 2000)(court refused to dismiss case)
ITT Sheraton Corp. v. Lanco Inns, Inc., 1998 WL 187430 (N.D.N.Y. 1998)(court upheld our client's complaint)
A.J. Temple Marble & Tile, Inc. v. Union Carbide Marble Care, Inc., 214 A.D.2d 473, 625 N.Y.S.2d 904 (N.Y.A.D. 1994)(franchisee's case could proceed despite franchise agreement provisions stating it could not)
Classes/Seminars
Over three dozen presentations and classes at the ABA Forum on Franchising, the IFA Legal Symposium, Practicing Law Institute and National Franchise Association.
Professional Associations and Memberships
American Bar Association – Forum on Franchising (former Governing Committee Member)
New York State Bar Association
Minnesota Bar Association
Publications
Books
Franchise & Distribution Law & Practice, 3 vols., (West, 1990), with annual supplements.
Franchise Desk Book, (Editor) (American Bar Association, 2001).
"Prohibitions and Liabilities," chapter 5 in The FTC Franchise Rule, 2d Ed. (American Bar Association, 2012).
"Franchise and Distribution Agreements," chapter 14 in New York Forms of Jury Instructions (Matthew Bender, 1992).
Articles
"Nailing the Blob of Mercury: Goodwill in Franchising," Franchise Law Journal, vol. 33, no. 2, Fall 2013 (co-authored with Elliot Ginsburg).
"Special Industry Relationship Statutes:  PMPA, Beer Distributors, Auto Dealers and Heavy Equipment Dealers," (with Barry Kurtz and A. Christopher Young), 37th Annual Forum on Franchising, 2014.
"When Competitive Franchise Systems Merge:  Opportunities and Pitfalls," (with Richard Greenstein and Mary McMonagle), 43rd Annual Legal Symposium, 2014.
"The Mass Franchise Dispute:  Is It Revolution or Simply the Cost of Doing Business," (with Stephen Hagedorn and Len MacPhee), 40th Annual Legal Symposium, 2011.
"Independent Contractor or Employee? Minimizing Exposure from the Gray Areas of the Franchise Relationship," (with John F. Dienelt and Patricia Costello Slovak), 35th Annual Forum on Franchising, 2012.
"Litigating Unlawful FPRs and Practical Tips for Doing So" (with Earsa Jackson), 33rd Annual Forum on Franchising, 2010.
"Evidentiary and Trial Issues in Franchise Cases," (with Carmen D. Caruso, Jon P. Christiansen, Steven Goode and Robin M. Spencer), 31st Annual Forum on Franchising, 2008.
"Utilizing the Doctrine of Prior Material Breach to End A Franchise Relationship," (with Sarah A. Johnston) an article in Franchise Law Journal, Summer 2004.
"Twenty Five Years of Franchising: Where Have We Been and Where are We going?" (with three other authors) 25th Annual Forum on Franchising, 2002.
"Class Actions" (with Craig Trachtenberg and Erik Wulff) 32nd Annual Legal Symposium, IFA, 1999.
"Franchisee Bankruptcy and Workout Issues" (with Rochelle Spandorf) 31st Annual Legal Symposium, IFA, 1998.
"Legal Issues Arising From Ownership of Competing Franchise Systems," (with Joel Buckberg and Jonathan Solish) 22nd Annual Forum on Franchising.
"Essentials of Registration and Disclosure for Litigators " (with Kim A. Lambert) 1998 Annual Forum on Franchising.
"Anatomy of a Fraud Case," (with Charles G. Miller) Nineteenth Annual Forum on Franchising, 1996.
"The Implied Covenant of Good Faith in Franchising: A Model for Discretion," Oklahoma City University Law Review, Summer and Fall 1995.
"The Tides of Franchising," (with John F. Dienelt and Susan Cahoon), Seventeenth Annual Forum on Franchising, 1994.
"Encroachment: The Thorn in Every Franchisor's Side," (with Rupert M. Barkoff), Sixteenth Annual Forum on Franchising, 1993.
"The Year In Review," (with Rochelle B. Spandorf), Fifteenth Annual Forum on Franchising, 1992.
"Secondary Marketing Opportunities," (with Donna E. Straff), Fourteenth Annual Forum on Franchising, 1991,
"Life after Death: Renewal Rights and Remedies," (with J. Michael Dady), Thir­teenth Annual Forum on Franchising, 1990.
"Tell Me A Promise, Sell Me A Lie: Post-Sale Disclosure Obligations," International Franchise Association, 23rd Annual Legal Symposium, May 1990.
"Litigation Strategies," (with Jonathan Solish), Twelfth Annual Forum on Franchising, Forum Committee on Franchising, 1989.
"Procedural Aspects of Franchise Termination and Nonrenewal," Eleventh Annual Forum, Forum Committee on Franchising, 1988.
"Jurisdiction, Choice of Law and Choice of Venue in the Wake of Burger King Corp. v. Rudzewicz," 3 Franchise Legal Digest 19, May-June 1987.
"On the Auction Block: Franchising and Bankruptcy," (with Joyce G. Mazero), Ninth Annual Forum, Forum Committee on Franchising, 1986.
"The Current Status of Civil RICO and Franchising," 6 Franchise Law Journal 1, 1986.
"Franchise and Dealer Agreements under Chapter 11 of the Bankruptcy Code," 59 American Bankruptcy Law Journal 88 1985, reprinted in 1 Franchise Law Review (1986); 4 Franchise Legal Digest 16 (July/August 1986).
"United States v. ASCAP: The Licensing Provisions of the Amended Final Judgment of 1950," Bulletin of the Copyright Society of the United States, February 1976.
Columns
"Franchising," a column in the Licensing Journal, approximately 1995.
Various articles in Entrepreneur magazine, approximately 1991 – 1992.
"Editor's Column," Franchise Law Journal, quarterly, 1988 – 1993.
"Judicial Update," a column in Franchise Update magazine; approximately 1993 — 2000.
GET SMART. GET HELP FROM GARNER & GINSBURG.